Painting Prices in Saint Davids, PA 19087
Are you wondering how much painting services in Saint Davids, Pennsylvania cost? Pricing varies, of course, but if you're looking for a solid painting contractor in Saint Davids at a price that is fair, you've just found them! At 3 Generations Painting, we like to assess the scope of the job at hand before quoting a price. We believe every painting job is unique, just as every surface is unique. Whether you want a price to paint the exterior of your Saint Davids home or just touch up the trim and front door, we'll assess the work requested and readily give you our best price.
We treat every painting or staining job as if our reputation depends on it (because we know that it does). The pride we take in our work shows in everything we do, but giving all our customers value for money is very important as well. While you might be able to find a cheaper painting contractor in Saint Davids, pricing generally reflects skill level and quality. We know you won't find a higher quality Saint Davids painter with the great pricing 3 Generations Painting can deliver!
---
Call for a Free Quote
---
Our Saint Davids Painting Pricing Process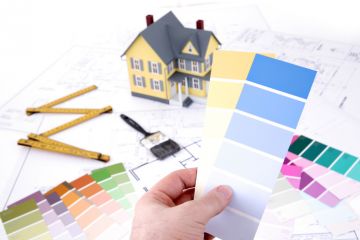 Rather than giving our customers a list of set prices, we follow a consistent and fair pricing process. After an initial phone discussion, we'll schedule a convenient time to visit you in person, whether at your home, office or wherever the work will take place. We'll listen carefully to your painting requirements. We'll take time to consider both your space, the materials needed and any other factors that may impact pricing the job.
Once you're happy that we have considered all aspects, we'll then calculate the cost to paint your Saint Davids home or office building. We'll provide you with a free written estimate as soon as we have it, although we don't like to rush such an important task.
The quote you receive will be based on a range of factors, including the required timescale, the nature of the work and the caliber materials you are looking for. For example, if you wish to change the color of your home's exterior, in Saint Davids the cost will be a bit higher than if you wish to stay close to the current color. Wherever possible, we will work within the confines of your budget, but we'll always be honest and upfront with prices.
We will guarantee this: 3 Generations Painting always strives to complete work on time and within the established budget. Once we've given you a written estimate, you can take it to the bank!
The Best Painting Value in Saint Davids
Our experienced Saint Davids painting contractors are not only highly skilled and conscientious, but they provide painting services in Saint Davids at a great value. Over the years, we've successfully completed just about every imaginable type of painting project. There is no painting job we can't take on successfully.
While we don't claim to be the cheapest painting service in Saint Davids, we honestly believe we're the best. Call (610) 228-4480 and you will be in touch with a team that values attention to detail and building trust. We never cut corners to save time or money. Our reputation (and your home) is simply too important to us.
If you are looking for a Saint Davids painter for a cost-effective and high-quality job, call (610) 228-4480 for the best painting value in the area.
WHAT CUSTOMERS ARE SAYING:
5★★★★★ - "Reliable, Quick, thorough, high quality. Couldn't be happier! Thank you!!"
Deb Dion, Interior Painting in Havertown, PA
2019-01-08
---
5★★★★★ - "Brad and his team did an amazing job with our home! We had put off painting in a few rooms because of wall paper borders but they made it look easy. The team was fast and efficient, painting five rooms and our staircase/hallway in three days. They handled all prep and furniture moving, answered our questions, and delivered exactly what they promised. We were thrilled that they were able to knock it all out for us right before the holidays too! We could not be happier with our new rooms, what a difference! PS- He also did our deck two summers ago. It's holding up amazingly!"
Jeremy
---
5★★★★★ - "I have been in the Real Estate business for 45 years and as such always need to have a really good, reasonably priced painter to refer to my clients. I met Brad Rankin over 5 years ago and I feel very Blessed to know him and to have him as a great person and a great painter to refer to my family and friends. He and his friend, Stewart and his other painters take special pride to be on time...pay attention to the details...display craftsmanship...strive for excellence....and clean up before they leave your home. As a Realtor, I can have emergency situations to get a property to settlement and he finds a way get the job done even if that means working in the evening or a Saturday. Please do not ask him to work on a Sunday because that is the day he spends with the Lord and his family. He is a dedicated Christian man who goes out of his way to do God's work by helping God's children who need help. Let me warn you that he comes equipped with his radio and will have K-Love on all day long. If you seem a little down or depressed or have just suffered a loss....do not be surprised if he hands you his second favorite book(after the Bible)...Jesus Calling. On a scale one 1-10....Brad is an 11. Need painting???....Call Brad !!!!"
Donald H. Hibberd
---
5★★★★★ - "Brad and Norm are first rate -- Brad was at my daughters house giving a quote within 4 hours of her hugely pregnant frantic phone call (previous contractor sucked) and work was completely less than 72 hours later. Amazing guys! Brad also kept her abreast every step of the way!!! Would definitely use again! "
Linda Gerrone Brown
2013-07-15
---
5★★★★★ - "They came when they said they would, did what they said they would do, and charged what they quoted and did a great job."
Susi G., Deck Treatment in Wayne, PA
2012-12-13
---
5★★★★★ - "We thought Brad and his crew were first rate. We met first with someone on his staff who gave us advice on colors. which we loved. Then his crew were on time and got the job done quickly, professionally and for a fair price. He painted our living room, dining room, kitchen, hallways and ceilings and we couldn't be happier. The place looks great and we've gotten rave reviews from our friends."
Dan G., Interior Painting in Aston, PA
2012-12-13
---
5★★★★★ - "They are simply the best! Brad, and his team. Norman and Tom, painted almost the entire interior of my home. It turned out beautiful. They are the ulimate professionals. They are quick, efficient, and their attention to detail is amazing. They are also extremely nice and very trusty worthy. I would not only recommend them to my friends and family but they are now the only painting company I will ever use. If you care about your home and you want the job done right.. .go with 3 Generation's Painting. You will not be disappointed."   Susanne B., Interior Painting in Coatesville, PA"
Anonymous, Interior Painting in Coatesville, PA
2012-12-13
---
5★★★★★ - "Brad did a great job. He was very responsive, gave a quick and accurate estimate. He was punctual, clean, did a professional job. I would call him for future work ...no other estimates needed."   Joe C., Interior Painting in Blue Bell, PA"
Anonymous, Interior Painting in Blue Bell, PA
2012-12-13
---
5★★★★★ - "Among three contractors I chose three generation's painting, Brad Rankin. My choice was based on a number of factors related to knowledge and expertise. But Brad had something more which I picked up through our conversation, and his willingness to go the extra miles. I did not regret. The work was done diligently, professionally, and with care. Brad was always present when I needed it. He responded to my request with grace and professionalism. For example, he graciously vounteered to help me insulate the pipes in my garage, a very gracious offer. The work was done well, in a timely fashion, and at a reasonable price. Thank you Brad, and S.M."   Evelyne S., Drywall Repair in Wallingford, PA"
Anonymous, Drywall Repair in Wallingford, PA
2012-12-13
---
5★★★★★ - "Great service and was completed in two days as promised. They were always available by phone and very helpful in my design scheme. Great job"
Joe D., Interior Painting in Brookhaven, PA
2012-12-12
---
5★★★★★ - "Working with Brad was great, not only was he on time. he did awesome work. He painted my entire house, cleaned up and put everything back. I have a Special Needs daughler and he took the time to help her pick au! the paint for her room. She was also so impressed by him. I would reccomend him to everyone that wants good work by a great company. My place looks excellent. Thanks Brad"
Interior Painting in Wyncote, PA
2012-12-12
---
5★★★★★ - "I have never worked with a contractor who was more efficient, competitively priced and customer service oriented. Brad's follow-up was outstanding, his willingness to help pick colors was extremely helpful and his team of painters were wonderful. He did a beautiful job and exceeded our expectations. I would highly recommend 3 Generations Painting to anyone."   Jacki B., Specialty Painting in Rydal, PA"
Anonymous, Textured Painting in Rydal, PA
2012-12-12
---
Call for FREE Painting Prices Quote
---
Painting Prices available in the following Saint Davids, PA zip codes: